Notification Center
The notification center is available via the bell icon at the top of the dashboard bar. Hitting the bell will open a panel with all recent notifications. Unread items are denoted with a blue line and can be marked as read using the button to the top right of the panel.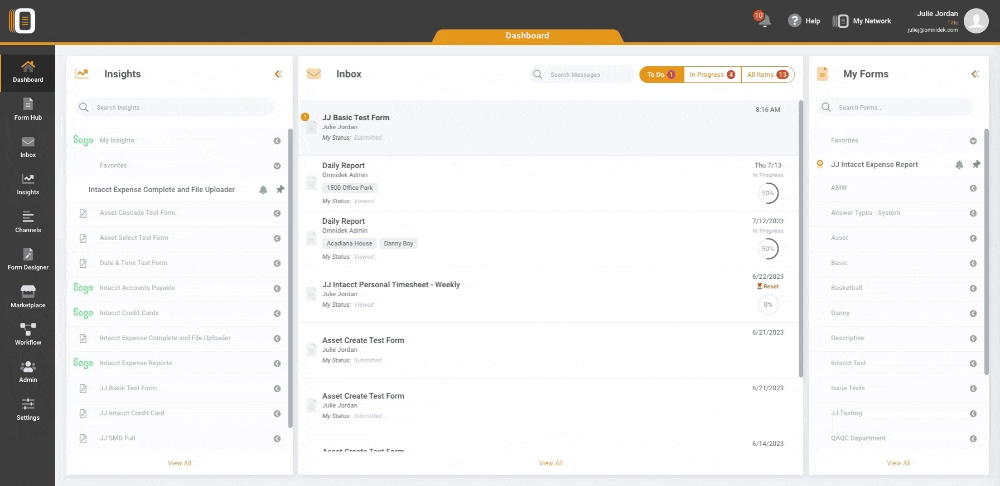 Users will still receive usual system emails. Notifications serve as a visual collection within Omnidek for various processes affecting your user.
Click on the notification card to link to the references chat, insight, or submission. Users can clear notification from the list using the "X" to the right of the notification card.
Notification Types:
Insight Share
generated when an insight has been shared to your user

Insight Follow

generated when a followed insight has a new record (new form submission)

Users can stop following the Insight(same as bell notification next to Insight name) using the 'Stop Following' text on the notification.

Form Follow

generated for the 3 scenarios that trigger form submission emails:

Workflow Inclusion - a user becomes an approver, viewer of a submission
Workflow Completion - when a user is indicated on an end node in a workflow to receive an email on completion
Workflow Rejection - notifying members of a submission that it has been rejected

Users can stop following the form(same as bell notification next to form name) using the 'Stop Following' text on the notification.

Mentions

generated when a user is mentioned by a user in a chat (submission or conversation). A notification will be generated if a user mentions themselves in a chat to serve as a reminder.

Message Reaction
generated when another user reacts to a chat message created by your user