New and Noteworthy
Edit Insight Name
Insight name can be edited using the new edit icon to the right of the Insight bar

Withdraw a Form
Renamed the Kill action to Withdraw. The submission will be removed from the workflow and display in the 'All Items' tab in Inbox with an indicator.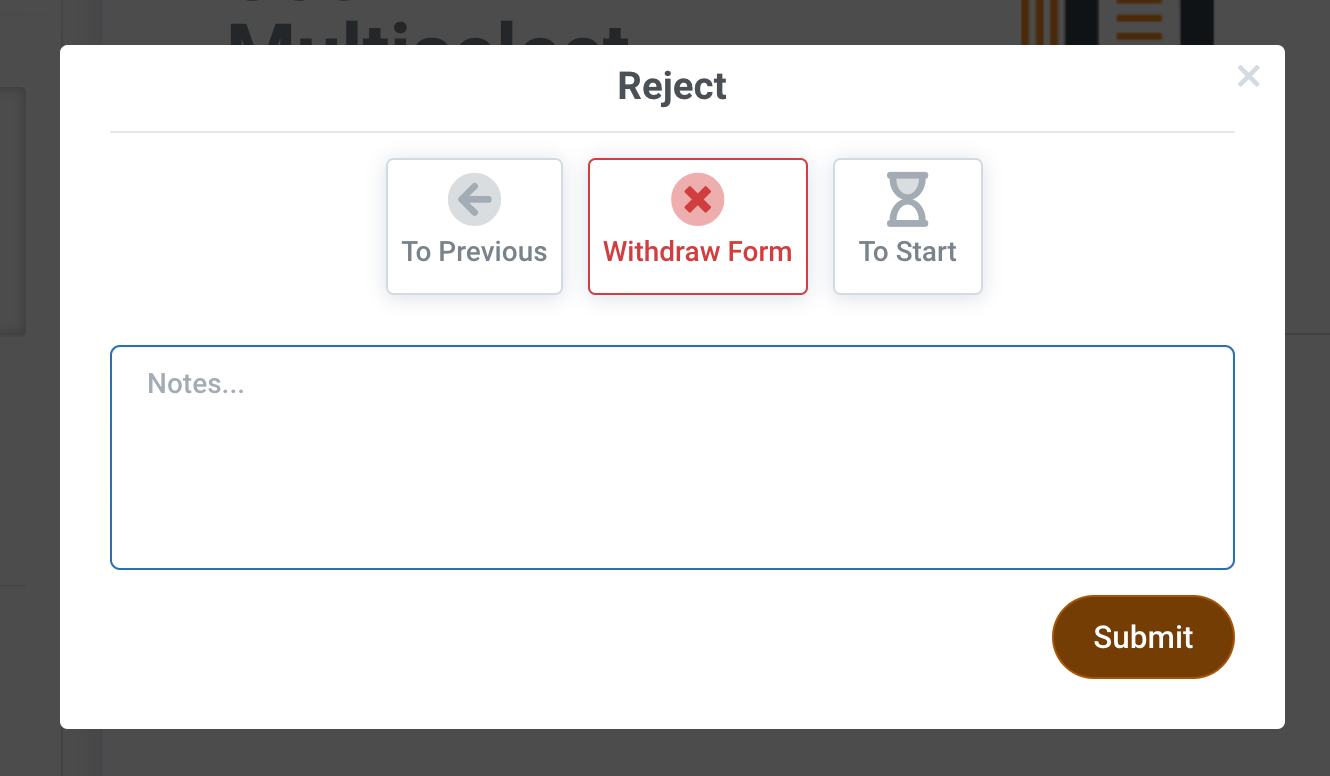 New form Insights will now have a filter set to automatically filter out forms that have been 'Withdrawn". When a user sets up a new Insight and clicks apply changes, the funnel for the System Field "Is Withdrawn" is turned on and the Filter below shows "Equal To" and "False". This will remove or filter out all forms that are in the "Withdrawn" status in a workflow.
If a user elects to check the "Is Withdrawn" System Field and further selects the funnel to show a specific filter, the Insight will behave as the user has set it up. Otherwise, the default setting of filtering out "Withdrawn" forms will take affect.
To learn more: Withdrawn Forms
Submissions In Progress Screen
Now, users can see a list of submissions in a Workflow using the submission count link. There are two different views--one for coordinators and another basic view for any user with workflow permissions. To learn more: Submissions In Progress Screen
Default Workflow Enhancements
Default workflows have new constraints and rules to help users better manage submissions.
To learn more: Workflow Basics
Enhancements
707 | Now, any limitations entered into a search bar will be selected using the 'Select All' check box. It will select only the records that are a result of the search criteria.
9635 | Newly built workflows will not display the Form name as well as the Workflow name in the header of the workflow designer
9571 | In Insight filters, when a user hovers over Reference Name it will display the Question Caption assigned in Form Designer.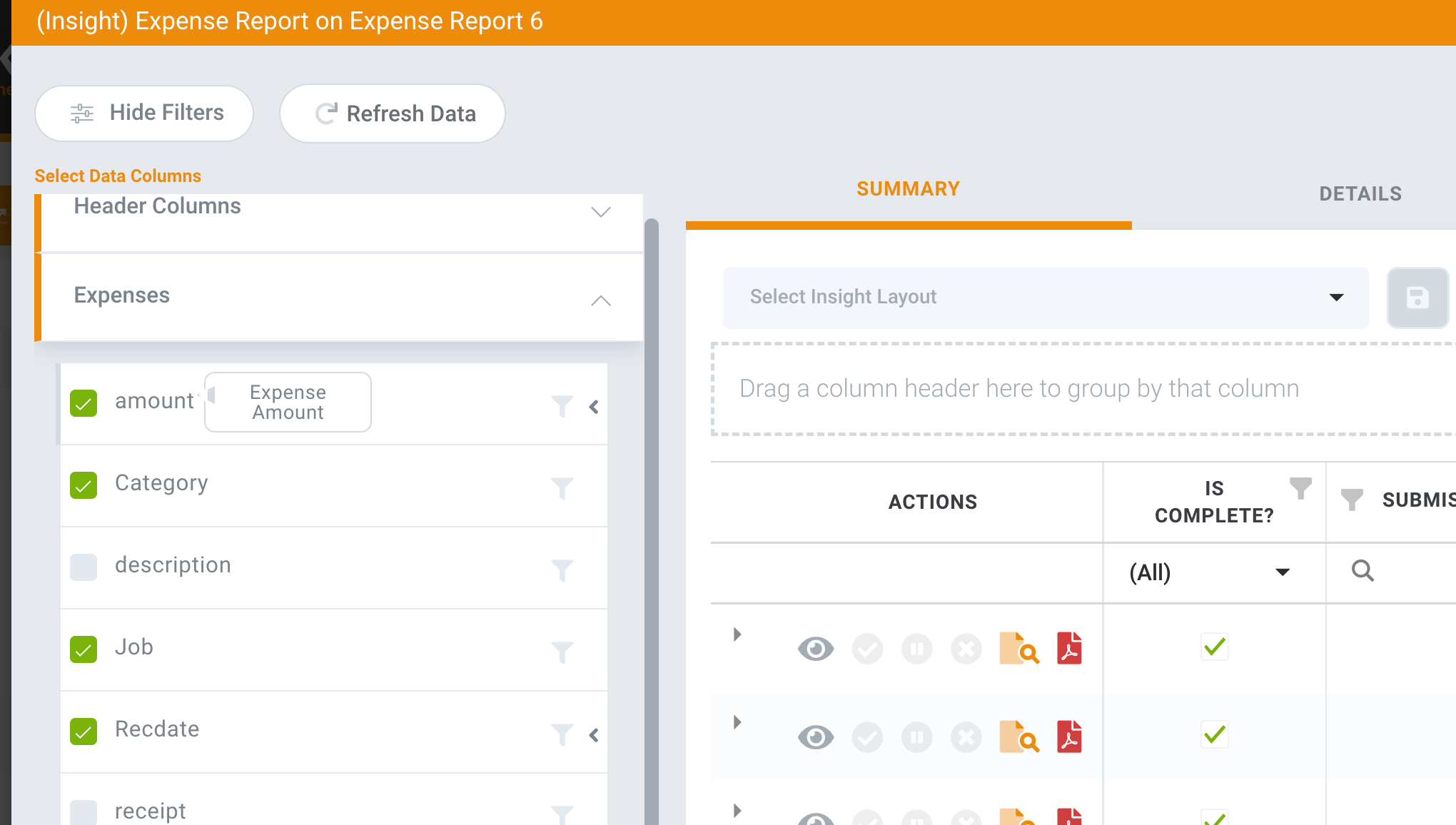 9659 | Corrected behavior with unique values in tab container when the alert modal is open
9610 | This enhancement allows users to have the ability to use an Asset Multiselect question in a Condition node in workflows
9633 | All new workflows will now require a Coordinator(s) to be added. When a user builds a new workflow and a Coordinator is not added before saving, a warning modal will appear after clicking the Save button. It will alert the user that they have not added a Coordinator and must do so before continuing with a save. All current workflows that do not have a Coordinator will remain without one until a user opens the workflow and selects a Coordinator(s).
9639 | When a new form is Saved or Published a workflow is created by default. The workflow is called Default Workflow and has a Start Node and End Node.
9646 | The dropdown list in Portals now displays the organization in its lineage for clarity when assigning an organization to a portal page
9661 | The final organization in lineage is bolded for clarity when selecting form dropdown in Invite User modal and Edit User modal in Organizations
9674 | Assigning forms to a Category will now be required when Publishing the form. When a user builds a new form in Form Designer and clicks the Publish button, the system will check if the form has been assigned a Category. If the form has no Category, a warning modal will appear alerting the user that a Category must be assigned before publishing. Any currently published forms that are not assigned a Category will remain Uncategorized until a user assigns the appropriate Category.
9679 | A workflow set to default will have the delete button disabled. To delete a workflow, set another workflow as default, then the delete button will be available.
Bug Fixes
1824 | Corrected issue where the Number answer type with percent formatting was reverting to decimals on submission save.
9589 | Corrected issues with numbers answer type on clusters with format of $#,##0.00
9636 | When a user updates an existing workflow that contains a priority number, the priority number no longer disappears after saving the update.
9637 | A warning modal now alerts the user when Approval nodes, Hierarchy nodes and Condition nodes are empty and do not contain at least one entity in the node(s).
9656 | Corrected an issue where filter builder was breaking the format of columns in the Insight.
9684 | Corrected an issue where formatting was cleared on a number field after saving or submitting a form
9659 | Corrected behavior with unique values in tab container when the alert modal is open